Syrie, dans Homs /
Syria, inside Homs
À la veille du soulèvement syrien, les adversaires les plus résolus du régime de Bachar el-Assad étaient les premiers à redouter une révolution. Tous gardaient en effet en tête l'écrasement de Hama en 1982, épilogue sanglant d'une insurrection islamiste de trois ans. Le régime syrien, dirigé à l'époque par Hafez el-Assad, le père de l'actuel président, n'avait alors pas hésité à faire tirer à l'arme lourde sur la quatrième ville du pays, au prix de milliers de morts, même si jamais aucun bilan officiel n'a été publié (entre 10 000 et 20 000 morts selon les estimations).
Ces opposants voyaient juste. Depuis le 17 mars 2011 et les premières tueries à Deraa, dans le sud du pays, le pouvoir syrien a privilégié à nouveau la réponse militaire, augmentée à la marge de réformes jugées purement cosmétiques. Confronté à des marées humaines prenant pacifiquement le contrôle des rues et face auxquelles il était désarmé, le régime a tenté de pousser une partie de cette opposition vers la lutte armée, un terrain sur lequel il pensait être à son avantage.
Cette pression a été à l'origine de la constitution de l'Armée syrienne libre, formée de déserteurs et de civils, sans pour autant que les cortèges de la colère, chaque vendredi, ne disparaissent. Mais le calcul de Bachar el-Assad s'est avéré à courte vue puisque c'est une guérilla classique qui s'est mise en place, aussi prompte à céder le terrain lorsque la pression des forces concentrées ponctuellement par le régime est trop forte, qu'elle est rapide à y revenir après le départ des blindés en direction d'un autre bastion rebelle.
L'autre échec du régime tient à son incapacité à restaurer « le mur de la peur » constitué par au moins trois décennies de répression, du massacre de la prison de Tadmor, en 1980, à celui de celle de Sednaya, en 2008. Depuis le début du soulèvement, le régime a pourtant laissé ses milices, les chabiha, se charger de la sale besogne : exécutions sommaires, tortures, nettoyages communautaro-ethniques, viols…
De fait, le pays est livré depuis plus de quinze mois à une violence inouïe. Une violence d'État qui n'a que faire des principes humanitaires les plus fondamentaux. C'est ainsi que les hôpitaux, les services de santé, les médecins ont été la cible des chasses à l'opposant organisées dans tout le pays. Les témoignages recueillis à Homs par les envoyés spéciaux du Monde, le rapport rédigé par l'organisation non gouvernementale Médecins sans frontières font état de véritables battues dans les établissements publics, ne laissant aux blessés d'autre choix que de s'en remettre à des dispensaires de fortune où les médicaments n'arrivent qu'au compte-goutte, lorsqu'ils arrivent.
Pour préserver ses chances de survie, le régime syrien a fait le choix d'une barbarie sans retour qui diffuse la haine et qui nourrit représailles et règlements de comptes. Le choix de la terre brûlée.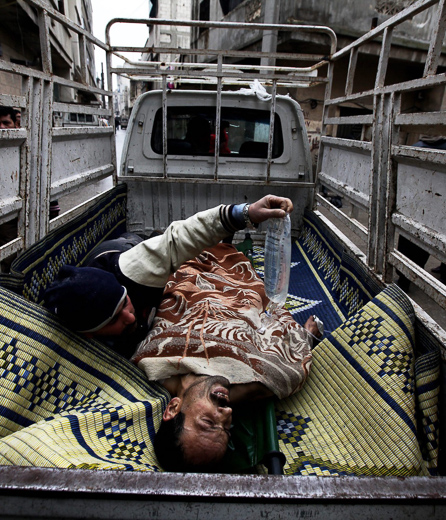 Shortly before the Syrian uprising, the first people to sense that revolution was on the way were the most determined opponents of Bashar el-Assad's régime. They could still remember 1982 and the Hama massacre, the cruel epilogue to crush an Islamist revolt that had been going on for three years. At the time, the régime was led by Hafez el-Assad, the father of the current president, who had no qualms about firing heavy weapons on the fourth largest city in the country, leaving thousands dead, although no official figures were ever released. (According to estimates, the number of dead was between 10 000 and 20 000.)
The opponents were right. Since March 17, 2011, and the first killings in Deraa in the south of the country, the Syrian regime has again opted for a military response, plus a few purely cosmetic reforms on the side. When massive crowds gained control of the streets, peacefully, the régime was faced with a challenge, and attempted to push part of the opposition movement into armed confrontation, an area where it believed it held the advantage.
Under this pressure, the Free Syrian Army formed, their ranks filled with deserters and civilians, and the angry demonstrations still continued every Friday. Bashar el-Assad's calculation turned out to be short-sighted, as a classical guerilla force took shape, prepared to concede terrain when concentrated forces sent in by the regime from time to time proved to be too powerful, and then quick to return once the armored vehicles had set off for another rebel stronghold.
Another weak point of the regime was that it failed to rebuild the "wall of fear" which had been established over three decades or more of repression – from the Tadmor prison massacre in 1980 to the Sednaya prison massacre in 2008 – and despite the fact that since the beginning of the uprising the régime had set its militia forces, the Shabiha, to do the dirty work: summary executions, torture, ethnic cleansing, attacks on communities, rape and more.
Over the last fifteen months the country has been in the grips of unbelievable violence – the violence of a State with total disregard for even the most basic humanitarian principles. Hospitals, medical centers and doctors have been targeted, as opponents are methodically hunted down across the country. Eye-witness reports from Homs from special correspondents for the newspaper Le Monde and the NGO Médecins sans frontières describe organized hunts through public buildings, and the wounded have no other choice than to rely on makeshift medical centers with little or no medical supplies.
To help maintain its chance of survival, the Syrian regime has chosen the inhumane option, with no going back, spreading hate and triggering reprisals, settling old scores: the choice of the scorched earth policy.